Padding is very important to any carpet. If you use the right padding for your carpet, it will last long without going flat or having any signs of wearing and tearing. It also gives cushioning to the floor and makes the floor comfortable to step on. In addition, proper padding absorbs sounds and makes the room quiet.
There are so many benefits of carpet padding that I cannot list all of them here. Though without an exception, getting carpet padding is a smart investment choice.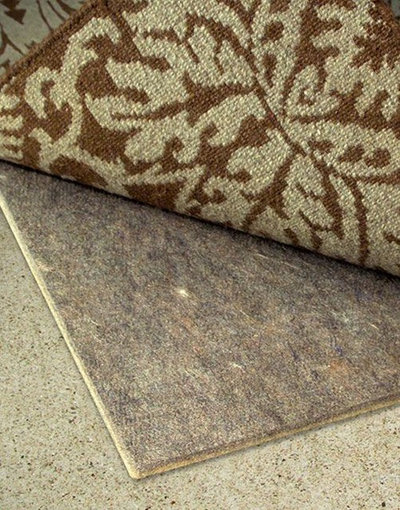 Let us now look at types of carpet padding available in the market.
Waffle rubber comes within the range of half-inch thickness. It is manufactured using the synthetic or natural rubber. It is ideal for home use because of its squishy and luxurious feel. However, it is too soft for most types of carpet due to its waffle texture that retains excess air. In addition, the rubber tends to break down easily because of the clay binders.
This type of padding is more expensive because of its firm and dense nature. It is mostly used in commercial buildings because of its high price. However, if you do not mind stretching your hand deeper into your pocket, you can acquire the flat rubber padding and your carpet will receive guaranteed long-term protection.
These types of carpet padding are very popular as they come in a variety of densities and thicknesses, giving one allowance to consider many options. It is manufactured by a combination of two liquid ingredients, that forms a big mass foam. Urethane foam for padding is firmer than the one used in automobile seats, mattresses and upholstered furniture.
Fiber cushions are made of either natural or synthetic carpet fibers. They have a firm feel and they lengthen the carpet's lifespan by limiting its movement. Fiber pads are made from jute, recycled textile fibers and hair mixed with jute. It is especially good for basement concrete floors because it is resistant to mold and mildew.
Bonded Urethane is also known as a rebond and it is very popular among most carpet owners and vendors. It is made by combining two high-density shredded Urethane foams from furniture and automobile industries. Rebond pads are environment-friendly because they are made from recycled materials. However, since everything has its flaws, it contains a certain kind of preservative, that is known to cause yellowing in carpets.
Your choice of a carpet pad is as important as choosing the carpet itself. It would be of no use purchasing an expensive carpet and installing it with a wrong padding, or rather without padding at all. The carpet will wear out fast and you will be forced to replace it. You will incur many expenses in the process.
Make a smart choice from the start. As you do your research on the best type of carpet to buy, find out about the perfect padding to accompany your carpet. Inquire from professionals and you will not be disappointed.